About Us
About the Company
We are proud to have two locations serving our local communities:
Lacy's Florist & Gift Shop serves Orange, VA and all surrounding towns.
The Flower Cottage serves Locust Grove, VA and all surrounding towns.
We are woman owned and operated and love being a part of the local community. We are committed to offering only the finest floral arrangements and gifts backed by service that is friendly and prompt. We carry an extensive gift line and are pleased to offer many locally made hand-crafted items.
We specialize in floral design and crafting for weddings, events and everyday needs. We are proud to offer one of the nations largest selection of men's formal wear rentals including Tuxedos, Suits, Coats, Pants, Shirts, Vests/Cummerbunds, Ties, Shoes and Accessories and have all the colors and slim-fit styles to give you a stunning entrance to your formal event.
Please call us at Lacy's (540) 672-4311 or The Flower Cottage (540) 388-2531 to discuss your florals, gifts or men's formal wear needs.
If you prefer email, you can always reach us at Send email
Let Lacy's Florist and The Flower Cottage be your first choice for flowers, specialty gifts, men's formal wear rentals and all your event floral needs.
---
Store Hours:
Lacy's Florist and The Flower Cottage open from 9am to 5pm, Monday through Friday and from 9am to 12:00pm on Saturday.
To place an urgent order when we are closed, please call Lacy's or The Flower Cottage and listen to the voice mail instructions.
About Lacy's Florist
Lacy's Florist is located on Main Street in the Town of Orange, Virginia, zip code 22960. Orange is situated amidst rolling landscapes and spectacular views of the Blue Ridge Mountains and serves as the seat for Orange County. Established in 1734, Orange County's story is an authentically American tale. Rich in agricultural and intellectual gifts, our natives and immigrants sowed the seeds of innovation and independence from their niche in the Blue Ridge foothills. From the Revolutionary War to the Civil War and the founding of the Constitution, Orange County is a cradle of American patriotism. Orange County has an extraordinary sense of place. Whether you're strolling down the tree-lined boulevards in our downtowns or revisiting America's roots at Montpelier, Orange County is a community where the past is abundantly present.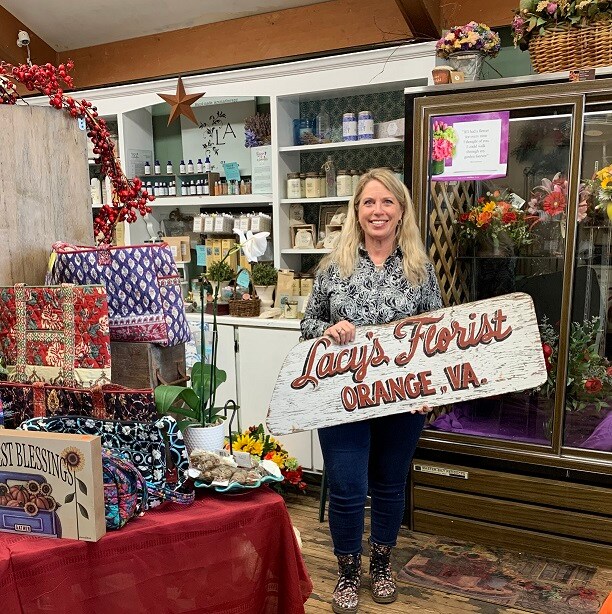 About The Flower Cottage
The Flower Cottage is located on Germanna Highway in Locust Grove, zip code 22508, which is a beautiful community in eastern Orange County, Virginia. Locust Grove has historically been centered on the intersection of State Routes 20 and 611, however most of the current population of well over 15,000 residents are located along the State Route 3 Germanna Highway corridor. Locust Grove thrives on a small local business culture and is home to the Lake of the Woods subdivision of over 4,000 lots.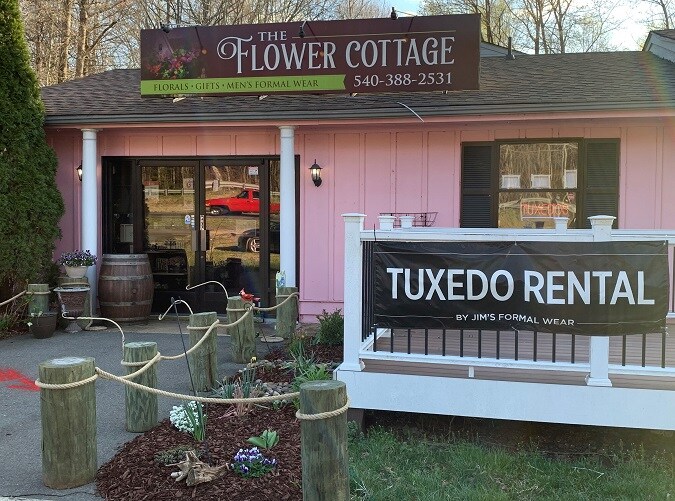 Our Team
We are thrilled to have a team with the finest talent in floral design and crafting. We are well-known in the area and are consistently voted Best-of-the-Best local Florist. We have dedicated team of designers at each location where they are supported by our door-to-door delivery drivers and shop clerks. We're proud of the immense talent of our team and here's just a few of our great floral designers; Joyce, Chanda and Annette ...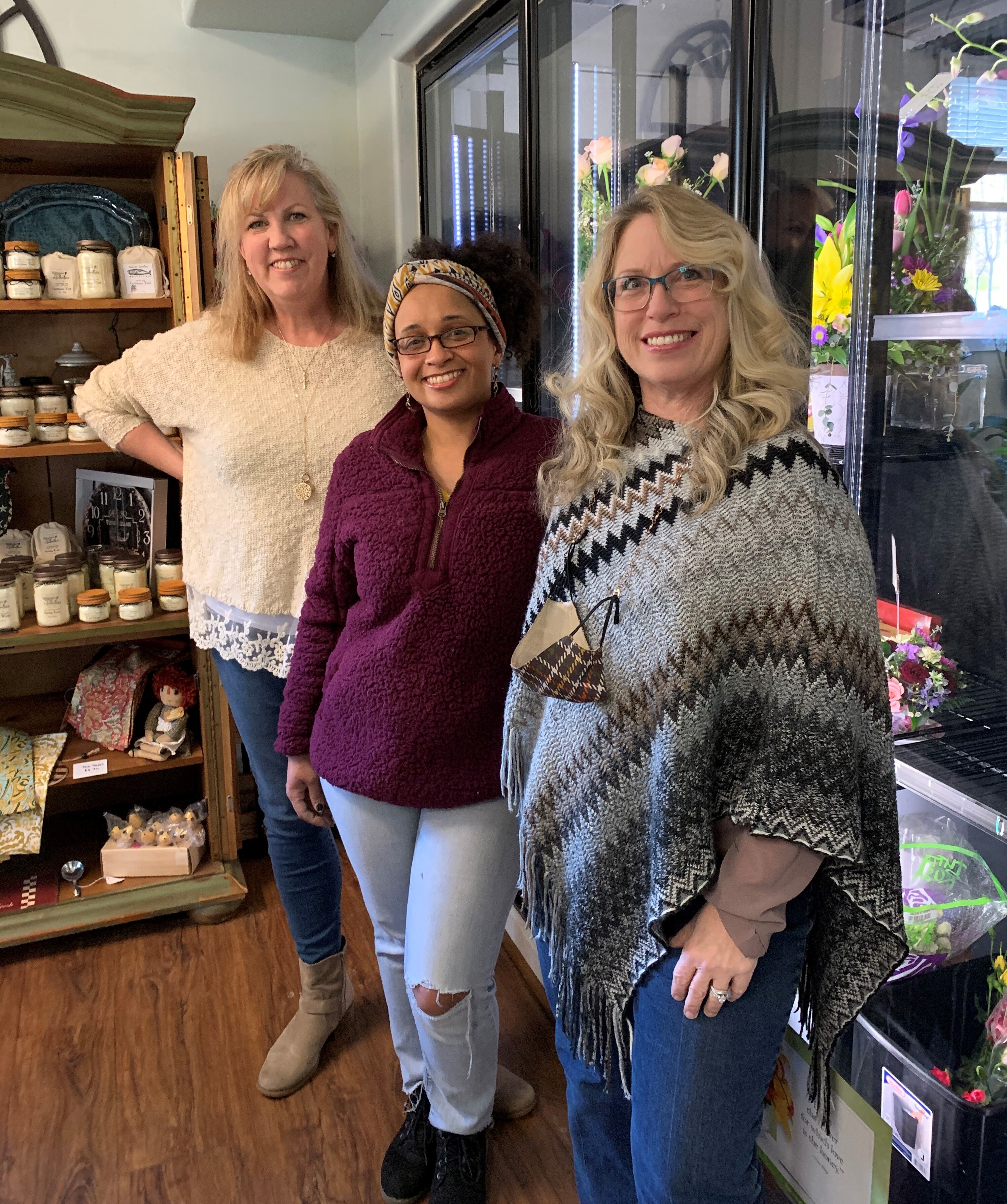 Areas Served
Our two shops deliver to residences, businesses, funeral homes and hospitals within an approx 20-mile radius of Orange, VA and Locust Grove, VA. We deliver to the following local towns and zip codes:
Orange, Gordonsville, Zion Crossroads, Woodberry Forest, Somerset, Unionville, Rhoadesville, Richardsville, Stevensburg, Culpeper, Locust Grove, Barboursville, Ruckersville, Madison, Keswick, Spotsylvania, Burr Hill, Lignum, Fredericksburg, Sumerduck, Elkwood, Mitchells, Hartwood, Goldvein, Rapidan, Locust Dale and Charlottesville
22402, 22406, 22433, 22471, 22508, 22542, 22551, 22553, 22567, 22701, 22718, 22720, 22726, 22727, 22729, 22733, 22736, 22741, 22742, 22901, 22923, 22942, 22947, 22960, 22968, 22972, 22948 and 22989
If you don't see your zip code listed, please call us at (540) 672-4311 and we will work with you to support your floral needs.
Funeral Homes Served
Lacy's Florist and The Flower Cottage is honored to provide daily deliveries to Funeral Homes and Sympathy Facilities in Orange, Locust Grove and all surrounding towns. If you don't see your facility listed below, please call us at (540) 672-4311 and we will work with you to support your floral needs.
Preddy Funeral Home - Orange,
Satchel Funeral Service - Orange
Preddy Funeral Home - Gordonsville
Preddy Funeral Home - Madison
Laurel Hill Funeral Home - Locust Grove
Johnson Funeral Home - Locust Grove
Found and Sons Funeral Chapel - Culpeper
Clore-English Funeral Home - Culpeper
Horizon Funeral Home - Culpeper
Tibbs Funeral Home - Culpeper
Culpeper National Cemetary - Culpeper
Virginia Cremation Services - Culpeper
Covenant Funeral Service - Fredericksburg
Mullins and Thompson Funeral Service - Fredericksburg
Found and Sons Funeral Chapel - Fredericksburg
AL Bennett & Son Funeral Home - Fredericksburg
Owens Funeral Service - Fredericksburg
Virginia Cremation Services - Fredericksburg
Hospitals & Care Homes Served
Lacy's Florist and The Flower Cottage provides daily deliveries to Hospitals and Assisted Living Care Facilities in Orange, Locust Grove and all surrounding towns. If you don't see your facility listed below, please call us at (540) 672-4311 and we will work with you to support your floral needs.
Culpeper Regional Hospital
Mary Washington Hospital
Dogwood Village
The Village at Gordon House
Mountain View Nursing Home
The Culpeper Assisted Living
Trinity Senior Village
Poets Walk of Fredericksburg
Childhelp in Lignum
Chancellor's Village
Delivery Policy
An in-town local delivery fee of up to $10.00 will be added to each order, for each address. For deliveries outside our main towns of Orange and Locust Grove, this fee will be a minimum of $10.00.
U.S. orders must be received before 2:00 p.m. weekdays in the recipient's time zone to assure same-day delivery. Orders received after that time will be delivered the following day. We will do our best to accommodate deliveries at specific times of day, but we cannot guarantee it. During holiday periods, specific delivery times cannot be guaranteed.
Our shops are closed on Sundays to allow family time for our staff. Deliveries requested on Sunday will be delivered the following business day.
Delivery of orders to rural route addresses or cemeteries cannot be guaranteed. We will be happy to accept your international orders if you call one of our shops directly. We are unable to accept international orders over the Internet.
Substitution Policy
Occasionally, floral and vase substitutions may be necessary due to the availability of certain products in various parts of the country. Care is taken to maintain the style, theme and color scheme of the arrangement, using flowers and vases of equal value. Additionally, the substitution of certain keepsake items may be necessary due to increased demand, especially during major holidays. In single-flower arrangements, such as an all rose bouquet, or orchids, we will make every attempt to match the flower type, but may substitute with another color.
Privacy Policy
This privacy statement has been created in order to demonstrate our firm commitment to protecting customer privacy.
Information We Collect
If you open an account on our site or make a purchase, we need your contact information including your name, e-mail address and mailing address to complete your transaction.
When you visit our website, we also collect some basic information that does not identify individual users. We use this information to determine our users demographics and interests, so that we can better understand and serve our users.
"Cookies"
Cookies are small files which store certain information about your activity on the website and are stored on your computers hard drive. Our cookies do not contain any personally identifying information. We use cookies to let us know that you are a prior customer, so that you dont have to reenter information you gave us on your prior visits. Most web browsers automatically accept cookies, but most allow you to instruct your browser to prevent the use of cookies. However, if you disable cookies, you will not be able to use certain features of this website.
Our Use and Disclosure of Your Information
When opening an account or making a purchase, you have an opportunity to opt-in or opt-out from receiving emails from us. If you opt-in to receive information from us, we may use your purchase history, contact information and other registration information to provide you with more relevant information and email content. We may send emails to our users regarding changes in our services or other information we believe will be of interest to our users. If you prefer not to receive these emails, you can send us an email with the subject line no emails or reply to our email with the subject line no emails.
If you send us personal correspondence, such as emails or letters, or if other users or third parties send us correspondence about your activities on our site, we may collect such information. We may use that information and other information that we obtain from your use of our site to resolve disputes, troubleshoot problems and enforce our agreement for Terms of Use.
We may share aggregate statistics about our sales, traffic patterns and related site information with other businesses, but these statistics will include no personally identifying information.
We may share your information with Teleflora and other reputable vendors for the purpose of sending out special offers via email and/ or in connection with the services provided by our site such as the delivery of flowers. Your information will not be shared for any other purpose and will be kept secured.
We cannot ensure that all of your private communications and other personally identifiable information will never be disclosed in ways not otherwise described in this Privacy Statement. For example, we may be required to disclose information to the government or third parties under certain circumstances, or third parties may unlawfully intercept or access transmissions or private communications. We can (and you authorize us to) disclose any information about you to law enforcement or other government officials as we, in our sole discretion, believe necessary or appropriate in connection with an investigation of fraud, intellectual property infringements, or other activity that may be illegal or may expose us to legal liability.
Security
This site has security measures in place to protect the loss, misuse and alteration of the information under our control.
All user credit card information is securely communicated using secure socket layer (SSL) software, which is the industry standard and among the best software available for secure commerce transactions.
All user information stored on our server is stored in an encrypted format. Notwithstanding these efforts, we caution you that perfect security does not exist on the Internet.
Linked Sites
If this site contains any links to other websites, we are not responsible for the privacy practices or the content of such websites.
Changes to Privacy Statement; Consent
We may update this Privacy Statement from time to time. You should check this page periodically for changes. By using our site, you consent to the collection and use of your information by us as described in this Privacy Statement.
Questions and Comments
We welcome your questions and comments about this Privacy Statement.